Winter Mold Hiding Spots
Posted in Mold, on December 22, 2022
Many folks think that mold must die back or struggle during the winter — after all, it's common knowledge that mold like warm and humid environments, the exact opposite of the cold months! SafeAir's mold inspection in Toronto service is offered year-round because we know that mold isn't just a seasonal issue and that it can thrive during the winter months. In this blog article, we'll share some common places mold hides during the winter and how mold testing in Toronto can help you discover and eliminate it.
Can Mold Grow in the Winter?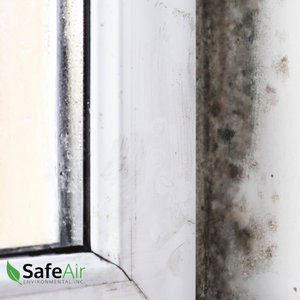 While mold seems like a warm-weather problem, the truth is that many species of mold can grow in temperatures as low as 0°C. While some molds may die off when the mercury drops, others will continue to grow slowly, while others may go dormant until the temperature climbs again. Catching mold while it's in a slow phase or hibernating may be one of the best times for remediation because of a reduced risk of transmission.
The other common cause of winter mold is that while the outdoors may be cold, the inside of our homes are toasty warm! Because mold thrives in the same temperatures we do, nothing stops it from expanding throughout the winter months as we keep our indoor temperature balanced.
Winter Mold Hiding Spots
Let's say you want to keep your eyes peeled for indoor mold growth this winter — where should you look? The SafeAir team notices winter growing most frequently in the following spaces:
Around windows or doors where frozen moisture may leak or thaw and condensation can form.
Crawl spaces, especially those with natural dirt floors, can suffer from humidity and mold issues.
When heat rises to the attic, so does moisture. When it meets the cold underside of your roof, condensation can form and cause mold growth on insulation.
Uninsulated closets or knee-walls can harbour winter mold infestations.
How to Prevent Mold Growth This Winter
Preventing mold from growing is the best way to avoid a mold inspection in Toronto. Here are our best tricks for preventing winter mold:
Get rid of hot and warm air from showering or cooking by installing a vent or opening the window.
Insulate your attic properly with modern materials and by sealing all gaps between your home and attic.
Keep windows and doors in good repair, sealing leaks and updating flashing to prevent water from getting in.
Balance humidity at 40-50%.
Corral wet clothing by the door, and ensure you allow it to dry before putting it away.
Prevent Mold All Year Long
If you discover mold growth during the winter, your best bet for a successful and safe removal is by working with a professional. At SafeAir we have over a decade of experience helping homeowners with year-round mold testing and mold removal in Toronto. Our friendly and thorough technicians will help you discover why you're experiencing mold growth and safely remove and remediate areas affected by it so that you can get back to living in a safe and healthy environment.
To book a mold inspection in Toronto this winter, contact us today.