Lyme Disease and Indoor Air Quality
Poor indoor air quality can have a long lasting effect on lyme disease potentially making Lyme symptoms worse and can make the recovery time from Lyme disease longer. Researchers are also looking into the potential that poor indoor air quality as well as indoor mold growth could actually increase the chances in contracting Lyme disease. A proper indoor air quality test or air quality assessment can help you beat Lyme disease
What is Lyme Disease?
Lyme disease affects a number of areas of the body and has numerous symptoms which are often mis-diagnosed. Lyme is caused by a bacteria species called Borrelia burgdorferi. This bacteria is usually transferred to the human body from a tick bite. The tick responsible for Lyme disease is called a 'Deer Tick' or 'Back Legged Tick
What does Lyme Disease cause?
The most common complaint at the beginning is a rash. The rash can look a lot like a 'bull's eye'. The rash does not have to appear in the area of the tick bite. The rash usually does not create any discomfort and has not been reported as having an itchy sensation. Other symptoms can include the following: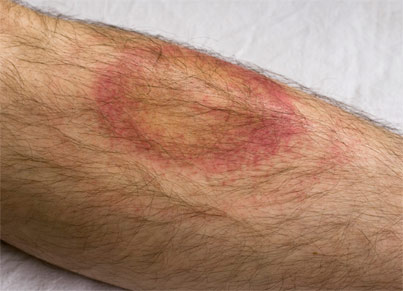 Fatigue
Headaches
Neck pain
Back pain
Joint pain
Malaise
Flu like feeling
Chest pain or soreness of the ribs
Nausea
Vomiting
Cramping
Twitching
Loss of libido
Erectal dysfuntion
Hair loss
Swelling around the eyes
And more
How is Lyme Disease treated?
The most important issue with Lyme disease is to get a proper and early diagnosis and treatment. There are a number of treatments available. We encourage you to contact your physician or health practitioner as soon as you suspect that you may have been bitten by a tick or believe you may have Lyme disease.
How does Indoor Air Quality affect Lyme Disease?
Indoor mold growth issues can contribute to the symptoms of Lyme disease making them last longer and appear more intense. It is also suspected that exposure to mold growth and its mycotoxins can make you more susceptible to Lyme disease once bitten by the tick. If you have possible mold growth in your home or office and are suffering from Lyme disease...you may not be getting better! Mold growth (depending on the species) can produce mycotoxins that have a negative effect on your immune system. A compromised immune system can retard Lyme disease treatment.