How to Prevent Radon in New Houses
Posted in Radon Testing, on January 13, 2023
With more Canadians becoming aware of the risk of radon gas in their homes, many homeowners are turning to radon testing to learn if they're at risk. At SafeAir, clients often turn down radon gas testing as part of their air quality inspection because they believe their new-build home protects them. This common misconception is placing many families at risk — and here's why you should be worried. Identifying radon with air quality inspections and radon testing can help you protect the health of you and your loved ones, ensuring a safer future with SafeAir.
Why Radon is a Problem in Old & New Homes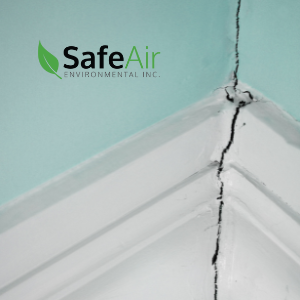 Radon gas is colourless, odourless, and invisible. You won't hear it hissing from the ground or feel it in the air. You'll never know it's there without a professional radon test — until it's too late. As the second-most leading cause of lung cancer after cigarette smoking, radon gas has a long-term and cumulative effect on human health. These radioactive particles come from deep underground and are easily breathed in, where they decay in our lungs and tissue, causing inflammation and injury.
Radon gas primarily enters homes through ground-level or underground-level rooms and spaces. In older homes, foundations with cracks and damage are one of the most common places it enters, but new homes are just as much at risk. Window wells, poorly sealed entrances and windows, sump pumps, and even groundwater or wells can bring radon gas into your home.
How to Know If You Have Radon in Your Home
Thankfully, modern technology has enabled us to do accurate radon gas readings in people's homes — and safely remove it. At SafeAir, we generally use 3-6 month long testing devices, which give the most accurate readings. We place them carefully in the lower level of your home during a short visit and remove them in a few months during another quick visit. We send the devices to a lab that returns a completed results analysis. SafeAir then helps you understand what it means — and if there are any further steps you need to take.
Why Is Long Term Testing Important?
3-6 months may seem like a long time, but it's key to getting an accurate, correct reading. Radon gas levels can fluctuate with the seasons and weather, making spot checks or short-term tests unreliable. At SafeAir, we want to provide you with the most accurate, science-based results possible, so there's no confusion or uncertainty. Long-term radon testing is the best way to achieve that.
How to Address the Causes of Radon Gas at Home
If you receive a result that indicates radon levels above Health Canada's safety standard, we'll help you determine what to do next. For many people, reducing indoor radon levels is as simple as air sealing your foundation or increasing ventilation, but other homes may need more involved intervention. The only way to know is by booking a radon test! SafeAir offers radon testing and general indoor air quality inspection across Toronto and the GTA to help homeowners like you breathe easier — literally and physically. To learn more about radon gas and schedule air quality testing in the Greater Toronto Area, reach out to the SafeAir team.