What Causes Radon at Home?
Radon gas is on the lips of anyone concerned about their home's indoor air quality. This colourless, odourless, invisible gas is only detectable through specialized radon testing and affects thousands of homes across Ontario. At SafeAir, many of our customers have never heard about radon gas and wonder why they should test for it — well, here are some answers!
What is Radon?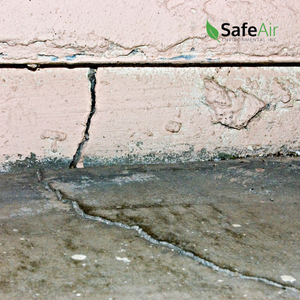 Radon gas is created as uranium decays. Deposits of this radioactive substance are buried deep in the earth's crust, and as the gas floats to the surface, it can collect in our homes instead of safely dispersing into the atmosphere. Many people are surprised to learn that radon gas is the second-most leading cause of lung cancer after tobacco smoke — the tiny particles of radon gas cause cellular changes, inflammation, and damage to the lungs when we breathe them in.
How Does Radon Get into My Home?
The risk of cancer associated with long-term radon gas exposure means preventing exposure is critical. If SafeAir detects radon gas in your indoor air quality, the next step is to determine how it's getting in and seal up any entrance points.
Here are a few common ways radon gas gets inside homes.
Soil: Radon gas is naturally occurring and moves up to the surface through the soil underneath our homes. Buildings with dirt basements or exposed soil in their lower levels are at particular risk for radon gas because of the porous nature of soil.
Cracks and Gaps: The primary way that radon tends to make its way into homes is through cracks and gaps in the foundation. Cement, bricks, or slab foundations can develop cracks as they age and settle. Pipe holes or intrusions into your foundation also break the barrier and may let radon enter.
Rocky ground: Homes built on rocks or in rocky areas may be at an elevated risk for radon gas because rocks may contain more extensive deposits of radioactive material. More uranium equals higher concentrations of radon gas and a greater likelihood it will affect your home at unsafe levels.
Wells: Home wells or sump drainage ports often cause increased radon gas in the home. Well water can be in more significant contact with rocks and soil containing radon, carrying it into your home. Open sump drains can be sealed to allow water in, but no radon gas out.
Why Radon Test With SafeAir
One of the reasons radon gas is so dangerous is that it's impossible to detect with our senses alone. That's why SafeAir offers reliable and trustworthy radon testing in Toronto and the GTA. These small, unobtrusive tests require only a few moments to install in your home; six months later, we return to uninstall them and send the device off to a lab for testing. Radon can fluctuate throughout the year, and tests must be placed precisely to obtain accurate results. Once we have your results, SafeAir can suggest strategies to mitigate your risk and reduce radon levels in your home. To inquire about radon testing or our indoor air quality tests, contact the SafeAir team directly.