Why Monitoring Your Indoor Air Quality Matters Post COVID-19
Posted in Air Quality, on November 09, 2021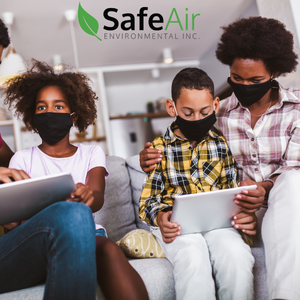 COVID-19 has opened our eyes to how important safe indoor environments are in preventing viruses and other respiratory ailments. At SafeAir, our focus on indoor air quality testing has helped thousands of GTA families make positive changes that improve their asthma, chronic lung conditions, sleep, and even concentration. Air quality testing can identify unknown issues and relieve hidden stressors that affect your everyday health.
Why is Indoor Air Quality Important?
While it's not possible (yet!) to monitor or test for the presence of COVID-19 in the air, several indoor air quality factors may encourage or support viral transmission. When indoor air quality is compromised, your environment can cause chronic illness and discomfort.
One of the most common examples of poor air quality is never-ending colds or allergies. Does this sound familiar? It's well past pollen season, and nobody else is sick, but your nose won't stop running, and the sneezes keep coming — for weeks on end. Most people are surprised to learn that these symptoms aren't just a particularly nasty bug but are caused by poor indoor quality, such as high or low humidity, mold growth, or poor ventilation.
Our lungs bring in oxygen to power our brains and feed our muscles, and our air environment also interacts with our largest organ, the skin, and affects our eyes, nose, and hair. Constant exposure to pollution or irritants significantly affects all these parts — underlining just how enormous the impact of poor air quality can be.
Who We Are
SafeAir's mission is to support healthy indoor living by providing quality, science-based indoor air quality testing in the GTA. For over a decade, we've been working closely with homeowners, families, landlords, building managers, and offices to bring about positive changes to their indoor living and working environments.
The SafeAir team lives and works in your community. We feel passionate about educating people on the many ways indoor air quality is affected by our habits and ways of living. We've seen first-hand how even small changes to the indoor environment can significantly affect comfort and want to help people feel empowered to address concerns as they arise.
How to Correct Poor Air Quality
If you suspect poor indoor air quality is affecting your home or business, there are a couple of easy ways to address it immediately.
Increase ventilation: Do you have a window that opens? A fan on your furnace? Get the air moving to flush away pollutants and stagnant air.
Change furnace filters: Dust, allergens, and pollutants can be endlessly recycled through the HVAC system. Change your furnace filters a few times a year to catch and weed them out.
Clean with scentless products — scents frequently irritate the eyes, nose, and airways.
Every home has unique air quality issues that can only be detected through professional air quality testing. Reach out to the SafeAir team to learn more about how we can help you prevent disease and improve your indoor environment.