Why Is Indoor Air Quality Important?
Posted in Air Quality, on November 08, 2022
For most homeowners, the only time we notice our indoor air quality is when it changes, like when the temperature fluctuates or a smell appears. But, your indoor air environment can shift at any time of day, and not always for the better. SafeAir recommends that you check your air quality at home annually to reduce your exposure to harmful indoor pollutants, such as mold, asbestos, pollen, or dust. Good air quality is key to good health and can be a hidden contributing factor to ongoing problems like asthma, lung cancer, and strokes.
Continue reading to learn why indoor air quality is essential.
Monitoring Air Quality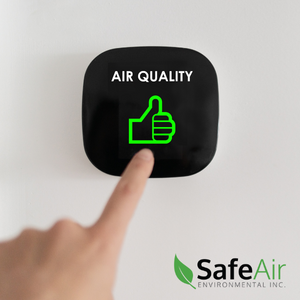 Environmental health risks are often visible and easy to diagnose and prevent. But when it comes to indoor air quality, our eyes, nose, and other senses often miss or underestimate common signs that something's amiss. Indoor air quality pollution can be a complex and interrelated issue caused by various factors, including your choices and behaviours. This is why the professional air quality monitoring we do at SafeAir takes a deeper look at what's going on with your property's environment. We use various tools to assess the unique factors and pressures your home may be facing and make recommendations to improve or eliminate problems.
Health Issues Associated with Poor Air Quality
We all know about smog days and outdoor pollution, but since most of us spend up to 90% of our time indoors, many people miss that indoor pollution may have a more significant effect on our short and long-term health.
Some of the common health problems related to poor air quality include:
Increased quantity and severity of asthma attacks
Increased risk of respiratory illnesses and longer recovery time
Complications for people with heart and lung conditions
Chronic nose, mouth, and throat issues
Headaches
Fatigue
Rashes or skin conditions
Common Indoor Pollutants
What types of pollutants that affect indoor air quality are identified when SafeAir checks your air quality at home? Every home is different — location, age, contents, habits, and routines can cause fluctuations or changes in air quality.
Some of the most common indoor pollutants we've come across at SafeAir include the following:
Mold growth
Asbestos
Lead from lead paints
Second-hand smoke
Radon gas
Volatile Organic Compounds
Reduce Your Indoor Pollution with SafeAir
Taking steps to clear the air benefits you and your family's physical, mental, and long-term well-being. Booking an indoor air quality assessment with SafeAir is easy! Our air quality tests are non-invasive and generally quick to perform. We'll assess your home using over a decade of experience and professional-grade tools that let us take accurate, science-based readings. We'll help you interpret our findings and suggest how to reduce and eliminate any problems we uncover.
Indoor air quality is more than just a foul smell — it can be related to physical problems like mold growth or long-term risks like radon poisoning that can significantly affect your sleep, indoor comfort, and much more.
To check your air quality at home, contact the SafeAir team to schedule an appointment.