Is Radon a Problem in Ontario Homes?
Posted in Radon Testing, on November 11, 2022
Many folks wonder if they should worry if there's radon gas in their homes, and the short answer is yes, you do. No matter what age, location, or type of home you have, radon testing almost always alerts the SafeAir team to the presence of radon gas in Ontario homes. Thus, the more critical question is whether or not it's at dangerous concentrations, which is the answer that air quality testing reveals. Radon gas is naturally occurring and more prevalent in some parts of Southern Ontario than others, so testing is key to understanding and eliminating your risk.
Radon in Ontario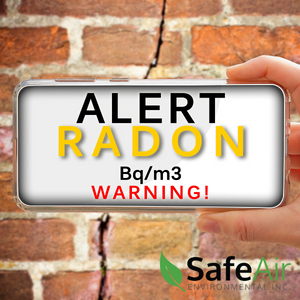 Radon gas occurs when uranium deep within the earth's crust begins to decay. This radioactive gas floats up to the surface and can accumulate in basements and ground floor levels in high concentrations. There is no safe exposure to radon gas, but Health Canada guidelines recommend that homes testing above 200 Bq/m³ take actions to lower their exposure.
Indoor air quality testing is the only way to know if your home has unsafe levels of radon gas in it. In a study by public health units across the province, 10-20% of homes in the GTA tested above 200 Bq/m³.
Symptoms of Radon Poisoning
It's impossible to know if you are exposed to radon gas at home — it has no smell, taste, or visible effects. However, long-term exposure to radon gas can result in the signs and symptoms of the diseases and health effects it causes.
While cigarette smoking gets all the press for being the number one cause of lung cancer, radon gas isn't far behind as the second-most leading cause of lung cancer in Canada.
Possible symptoms of radon gas exposure include:
Shortness of breath or wheezing
Coughing
Tightness and pain in the chest
Difficulty swallowing
Radon Testing
At SafeAir, we believe that knowledge is power — and because radon testing is the only way to know if you're at risk, we recommend testing your home at least once to ensure you're not putting your family at long-term risk.
Radon testing is easy — a SafeAir technician will come to your home and install a discreet, small, passive testing device in the lower level of your home. This testing device must remain in place for 3-6 months to ensure an accurate reading, after which we send it to a third-party lab for analysis.
Radon Mitigation with the Professionals at SafeAir
If your home tests for radon gas above 200 Bq/m³, the next step is to lower or eliminate the amount coming into your home. This is easy, too — for many properties across Toronto and the GTA, this involves sealing foundation gaps or installing covers over sump pumps and drains.
The team at SafeAir has helped hundreds of Ontarians test for radon gas in their home and make their indoor air environment safer and healthier. To learn more about how you can book radon testing for your home or how indoor air quality can affect your short and long-term health, reach out to the SafeAir team today for a free consultation.