Is Your Fireplace Affecting Your Indoor Air Quality
Posted in Air Quality, on December 13, 2022
As the weather gets crisp and darkness settles, there's nothing better than curling up by the fireplace for the next few months. But for many homeowners, the effect of the fireplace on their indoor air quality is not noticeable, even as it produces lots of indoor pollution. This winter, ensure your home's indoor air quality is safe and healthy with SafeAir's indoor air quality assessments. We'll take an in-depth look at your home's environment to assess its safety and identify indoor air pollution. Whether you're interested in our general services or specialty testing like mold testing or radon testing, we can help you breathe easier — both physically and psychologically!
What Pollutants Do Fireplaces Release?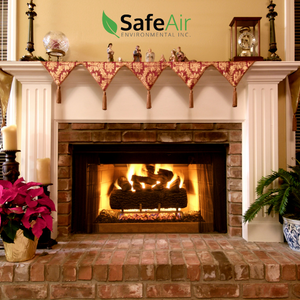 While the days of heating our homes solely by fire are long gone, the nostalgic pull of a cozy blaze remains. But we now know from indoor air quality and mold testing that many of our fireplaces or wood stoves release harmful and damaging pollutants into our home environment. Some of the most common ones the SafeAir team detects are:
Nitrogen Dioxide: An ear, nose, and throat irritant that can cause shortness of breath and has been linked with respiratory infections and lung diseases.
Carbon Monoxide: The 'silent killer' that reduces our body's ability to use oxygen and leads to weakness, fatigue, and headaches.
Particulate Matter: Comes from burning fuel sources, including external factors like cars and industry. Super tiny particulates affect the eyes, skin, nose, and respiratory system, causing long-term damage.
Safe Fireplace Usage
The news isn't all bad — many people can continue to use their fireplaces as long as they implement some safety features that contribute to healthy indoor air quality. At SafeAir, we generally like to start with three different factors.
Choosing the right fuel: Burning cleanly involves choosing the right kind of wood: hardwoods like maple, ash, or oak are best. Never burn wood that is wet, painted, or treated.
Add an air purifier: Clean the air as you go by running a HEPA air filter. You may even be able to add one to your furnace!
Annual maintenance: There is nothing more important for general safety than having annual maintenance to clean your chimney, flues, and vents. Not only will this help your fire burn cleaner, but it also prevents buildup that can cause house fires and alerts you to components at risk of failure or needing replacement.
How Pro Air Quality Testing Can Help!
Get ready to use your fireplace this winter with a whole-home air quality assessment with SafeAir! Our highly trained technicians will give your home a complete top-to-bottom check-up, paying close attention to how the air moves through your home, environmental factors, and features like your fireplace or wood stove. Secondary concerns like mold testing can also occur, and we'll give you a complete run-down of the various issues your home may experience and what sort of effects they are — or could — cause. Improvements to indoor air quality can affect all parts of your daily life, improving sleep, focus, and general health.
To learn more about how your fireplace may affect your home's indoor air quality, breathe easier by contacting SafeAir to book air quality testing.