How to Protect Your Family From the Dangers of Radon
Posted in Radon Testing, on April 28, 2023
Do you have a basement, crawlspace, bedroom, or living area in your home's lower level? If so, SafeAir's team of air quality experts suggests having radon detection performed to rule out unsafe levels of radon gas in your home. Extremely common across Ontario, radon gas is a harmful substance that occurs naturally in the environment — and is impossible to notice without professional testing since it has no smell or taste. Protecting your home with air quality testing in Toronto boosts your overall health and wellness and can reduce your long-term risk of health complications from environmental problems like radon. At SafeAir, our experienced specialists are equipped to provide your with comprehensive air quality testing to protect your family.
Understand Your Risk: The Dangers of Radon Exposure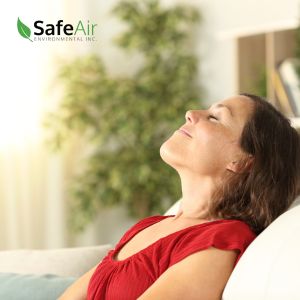 After smoking, radon gas is North America's leading cause of lung cancer. That's because the microscopic particles are easily breathed in and become stuck in our respiratory system. Radon gas particles are radioactive; as they decay, they burst and create small areas of inflammation and damage in the lungs. Over time, this damage leads to lung cancer and other severe, life-threatening conditions.
How Radon Gets Into Your Home
There's no way to know if your home is affected by radon gas unless you have it tested. A by-product of uranium decay deep underground, radon gas often collects in residential and commercial buildings' lower levels or basements. It arrives through cracks or openings in the foundation (such as pipes, doors, or damage) and is attracted by the negative pressure that subterranean rooms create in the earth.
Why You Shouldn't DIY Radon Testing
Most hardware stores have DIY radon testing kits available, but the SafeAir team does not recommend using them for three key reasons:
Installation must consider your home's unique factors, such as airflow, traffic, and location. It's not as simple as installing a fire alarm — careful placement ensures accurate results.
The testing period on many DIY radon tests needs to be longer, which means your test results may be negatively affected by short-term changes like seasonal shifts, traffic, and other conditions.
False positives (and false negatives) are extremely common with DIY tests. Don't put yourself at risk! The experts at SafeAir provide accurate and reliable air quality testing, providing you with the insights you need to keep your home and family safe.
How to Detect Radon Gas
Radon testing in Toronto can be added to general environmental assessments, but it can also be done as a stand-alone service. It is a specialized test that takes 3-6 months to complete. At SafeAir, we use discreet, small testing devices that are installed during a short visit. The test itself is entirely passive — once the testing window is over, we return, uninstall the device, and send it to a lab for analysis.
If the results of your radon detection test come back showing unsafe levels of radon gas, we will suggest radon mitigation techniques and retrofits that can reduce or eliminate your exposure. Nearly every community in Southern Ontario sees some level of radon gas exposure, making these tests a life-saving no-brainer. To book radon testing or indoor air quality testing in Toronto, contact the SafeAir team online or by phone today.