How Do You Check for Mold in Your Property
Posted in Mold, on May 09, 2023
This spring, the forecast in the GTA has been full of rain, which has been great for the plants in our gardens and parks. But all of this increased moisture and humidity has SafeAir gearing up for a busy season of mold inspection in Toronto, as leaks, floods, and water ingress into homes cause mold infestations to burst to life alongside the tulips. If water has been a problem around your home, booking mold testing in Toronto this spring can help alert you to emerging issues like mold, high indoor humidity, and other poor indoor air quality markers.
Mold Inspection 101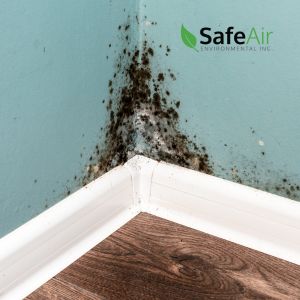 What is a mold inspection, and how can it help? Whether you live in a home, townhome, condo, or apartment block, environmental assessments in Toronto can help you determine the quality and health of your indoor air environment. Air surrounds our bodies and helps fuel our brains, and while the dangers of outdoor pollution are well known, SafeAir focuses on indoor pollution and how that might affect you — especially since we spend most of our time indoors.
Mold is one of the most common types of indoor air pollution in the GTA. Mold spreads by producing airborne spores that we can detect during mold testing. Spores may settle on skin, hair, and eyes and be breathed into our respiratory system, causing irritation and inflammation that resembles allergies like hay fever. But for a growing percentage of your friends and colleagues, exposure to mold spores may be more serious. Mold inspection in Toronto is a safe and accurate way to detect mold in indoor environments using air samples, measurements (like humidity), and a detailed physical inspection to locate big and small mold infestations.
Signs of Mold in Your Property
Watch out for signs like:
High indoor humidity
Water leaks or drips
Musty odours
Soft or spongy walls and floors
Condensation forming
Stains, marks, or visible growth.
The Importance of Mold Testing
While mold testing and mold inspection are often used interchangeably, they are slightly different services. Mold inspection is better for situations where you recognize mold growth and need to learn more about how extensive it is and whether or not it's spread to other rooms. On the other hand, mold testing in Toronto is used to confirm the presence of mold and can pinpoint the type or species, which may be helpful for remediation. At SafeAir, we often do mold testing after mold inspection — but it depends on your needs and the situation.
How to Prevent Future Mold Growth
Regardless of what type of mold service you need, one of the most important things to the SafeAir team is that we help you understand why there's mold in your home. Identifying contributing factors or problems that lead to mold outbreaks is part of an environmental assessment in Toronto, because all aspects of your indoor air environment connect — for example, humidity may lead to mold, but it also makes living spaces uncomfortable and sleeping difficult!
Working with SafeAir for mold inspection in Toronto guarantees a safe, reliable, and trustworthy home inspection so that you can breathe easier — literally! To learn more about us, speak to a team member.