3 Key Home Air Quality Mistakes To Avoid
Posted in Air Quality, on January 23, 2023
Many people make expensive changes to their homes to solve indoor comfort problems when a quick and painless home air quality test would help bring to light many common issues that affect comfort, safety, and health. SafeAir offers air quality testing in Toronto to highlight the many small changes homeowners can make to their environment, reducing indoor air pollution, allergens, VOCs, and other issues that have negative long and short-term effects.
Here are some of the most common mistakes people make when it comes to indoor air quality.
Delaying Water Damage Restoration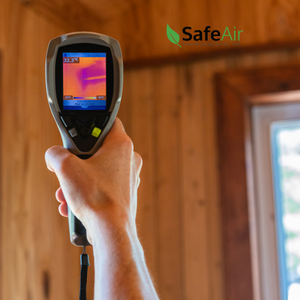 A leak or a flood in the basement may seem a transitory problem, and once it's dry, it's gone. But this isn't the case: floorboards, drywall, baseboards, furniture, textiles, and more can all hold onto moisture for weeks beyond a water event. Since moisture is the number one cause of indoor mold growth in Toronto, thoroughly drying out and restoring a water-damaged space should be the priority once the event is over. Mold growth produces airborne spores that severely affect indoor air quality, and infestations can have knock-on effects.
Forgetting to Replace HVAC Filters
Did you know that your furnace or air conditioning unit has space for an air filter? Many homeowners treat HVAC filters as biannual or yearly maintenance tasks, but the SafeAir team recommends changing them frequently. While every home will vary, changing your filter every 2-4 months can positively affect indoor air quality. Filters catch dirt, dust, and small to large particles, preventing them from cycling through your home. Keeping these particles out of your furnace has a bonus effect, too — it helps this expensive appliance run cleaner and last longer.
Not Leveraging Ventilation
Airflow in a home is a tricky balance — you want just enough to constantly move fresh air throughout your home, but not so much that there's a draft in your living room! Targeted ventilation in specific rooms is one of the easiest ways to improve indoor air quality. For example, installing exhaust fans or air circulators can help dry up moisture and bring fresh air into the lower levels of your home if you suffer from mold growth. In bathrooms and kitchens, where there's lots of moisture from bathing and cooking, exhaust fans are also essential.
How to Conduct a Home Air Quality Test
If you're unsure whether or not these three common air quality issues affect your home, it's time to book a home air quality test with SafeAir! Our friendly and trustworthy technicians can complete your home inspection from top to bottom, identifying areas of concern or pinpointing common air quality pollutants. If you have a specific question or concern, we can target our test to identify key markers or problems that may exacerbate your symptoms — look at the SafeAir blog to read more about common signs of indoor air pollution. To book air quality testing in Toronto for your home or business, or have the SafeAir team do a mold inspection after water damage. Contact us today to talk with a technician.