How Indoor Air Quality Affects Your Skin
Posted in Air Quality, on October 27, 2022
Wellness and skincare lovers, take note — indoor air quality may be the secret ingredient to a healthy glow! For over a decade, SafeAir has been helping people clean up their indoor air environment with mold testing in Toronto and other air quality assessments, and we've noticed a trend. Many of our clients report clearer, healthier, and more even skin tones after cleaning up their air quality. This doesn't surprise us — environmental pollutants like smoke, dust, mold, and fluctuating humidity significantly affect our respiratory system and the rest of our body, so why not our biggest organ, the skin? Continue reading to learn how cleaning up your indoor air quality might be the best new thing for your health and beauty routine.
How Air Pollution Affects Your Skin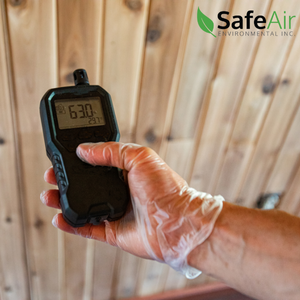 It's easy to forget that the air around us affects not just our lungs but can have a significant effect on our skin as well. Nurturing it and taking good care of it can have many long-term benefits. Indoor air pollution can affect the skin in many ways, such as:
Dryness and discomfort
Worsening the effects of conditions like eczema or psoriasis
Skin oil imbalances
Infections and wound healing
While on their own, these problems may seem minor, everything is connected — and when dry, itchy skin is added to other issues that poor air quality causes, such as brain fog, poor sleep, or headaches, your quality of life can quickly degrade.
What Contributes to Poor Air Quality
Most of us think pollution is an outdoor problem, but our indoor environments can actually be more affected by pollution than we think. Some of the common household pollutants the SafeAir team discovers include:
Dust & dander
Mold
Radon gas
Asbestos
VOCs from cleaning supplies and household chemicals
Pollen and environmental pollutants
Tips to Help Your Skin Recover
Reducing exposure to indoor air pollutants benefits your skin, respiratory system and whole body health! The first thing we recommend doing to improve your living environment is booking indoor air quality testing with us. SafeAir can help pinpoint pollutants present in your home, providing targeted solutions that get straight to the point.
There are also a few things you can do on your own, which include:
Wear your sunscreen! This extra barrier helps prevent more than just skin cancer.
Washing your face in the morning and evening to eliminate pollution you've picked up during the day or night.
Drink plenty of water to keep your skin looking dewy and fresh.
Wash your sheets regularly to keep dust mites under control.
Wash household textiles like curtains, pillow shams, and rugs to eliminate trapped pollutants.
Ventilate your home — fresh air is the best medicine for your indoor environment.
Improve Your Skin & Health with SafeAir
We bet you've never considered adding mold testing in Toronto to your health and wellness routine — but it's a great way to make subtle, long-lasting changes to how to live, sleep, and feel. To learn more about how indoor air quality affects your body and home, reach out to our team of specialists online or by phone.