Everything You Need to Know About Booking a Mold Inspection in Toronto
Posted in Mold, on September 14, 2021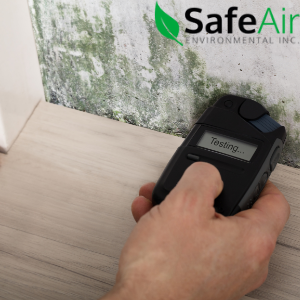 If you suspect you have mold growth in your home, there's only one way to know for sure: getting a mold inspection in Toronto. SafeAir's mold services include testing, inspection, and comprehensive recommendations for eradication and remediation. While mold can often be easy to identify by eyesight alone, we recommend professional mold testing in Toronto to put safety and efficiency first and foremost. Here is SafeAir's guide to everything you need to know about booking a mold inspection for your Toronto home.
When To Undertake a Mold Inspection
There are two ways you can tell you need a mold inspection. The first one is obvious: you can see it! Mold can look fuzzy, slick, furry, or flat and grow in a rainbow of colours. People often find it growing on organic materials like:
Wood
Textiles
Concrete
Grout
Carpet and flooring
Or in areas such as:
The attic
Around windows
Near sinks, taps, or pipes
In basements and crawlspaces.
The second way you can tell you need mold inspection in Toronto is through the various physical symptoms and signs of a mold infestation. You might not be able to see it, but mold may be growing behind walls, under flooring, or in the attic or crawlspace. The physical effects of mold growth include:
Itchy, watery eyes
Nasal congestion
Recurring respiratory issues
Disturbed sleeping habits
Headache
Your home may also get 'sick' from mold growth and can manifest its own symptoms, such as high energy bills, funny smells, spongey floors, walls, or ceilings, or other physical damage.
Mold Inspection vs Mold Testing
What is the difference between mold inspection and mold testing in Toronto? While these terms are often used interchangeably, there is a slight difference between the two.
Mold Inspection In Toronto
Mold inspection looks for visible or hidden mold growth and usually defines the scope of the problem in square footage.
Mold Testing In Toronto
On the other hand, mold testing takes a deeper look, identifying the species of mold, the concentration of spores, and additional information that you may want.
What's the right service for your home?
It depends on what you're looking for and how in-depth you'd like to go. For most people, mold inspection is enough: it identifies areas of mold growth and its cause, allowing you to eradicate the infestation safely. But if you have respiratory issues or live with children or elders, you may want the more comprehensive mold test. If we find or suspect evidence of toxic black mold, we may also recommend further testing to ensure we don't need additional inspection or safety procedures.
Finding the Right Mold Inspection Company in Toronto
A quick Google search will return hundreds of results for 'mold removal in Toronto' — but how do you know who to hire? Look for these three things when reviewing professional mold inspection companies:
1. Specialization
While do-it-all handymen have great skills and abilities, the dangerous nature of some mold infestations means that you want someone with professional training. This ensures accuracy and safety, as well as tools and equipment meant to deal specifically with mold.
2. Certification
Professional mold inspectors worth their salt will have professional affiliations and certification from organizations like the IICRCC or NAMP. These organizations provide third-party guidelines, continuing education, and set industry standards.
3. References
Many contractors in Ontario today have public reviews and ratings left by clients on websites, but they should also be able to provide you with their own references. Treat any contractors as though you are interviewing them for a job — you are! And if you don't like what you see, or they're unwilling to provide you references, keep looking until you feel confident.
Work with SafeAir To Improve Your Air Quality
Mold is, unfortunately, a prevalent issue across Toronto. The age of your home coupled with environmental factors, wear and tear, and extreme weather events can cause the ideal conditions for mold growth to spring up at any time of year. At SafeAir, we're committed to helping families create healthy, safe living environments through air quality testing and assessment, whether for mold, radon gas, or other common air quality pollutants. Do you have questions about mold inspection in Toronto? Call SafeAir for trusted answers and advice.