5 Indoor Air Quality Tips for a Healthier 2023
Posted in Air Quality, on December 12, 2022
As the old year gives way to the new, many of us make new year's resolutions…is healthier living on yours. Prioritizing the health and safety of your home by booking an indoor air quality test with SafeAir is an easy way to get your year started off on the right foot. Our science-based indoor air quality assessments look at your entire home environment, indoors and out, to identify and eliminate causes of indoor pollution that affect your health, comfort, and safety.
Want a few tips on where to start? Here are SafeAir's top 5 indoor air quality tips for a healthier 2023.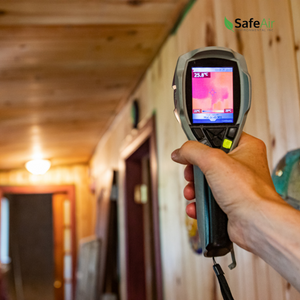 1. Reduce VOCs
Some of the most persistent indoor air pollutants are the ones we bring in ourselves. Volatile Organic Compounds, or VOCs, are chemicals that become airborne at room temperature and are commonly found in cleaning products, paints, glues, solvents, and many of the products we use in our homes. SafeAir recommends switching to scentless soaps and sprays or choosing products labelled low-VOC for an instant air quality upgrade. VOCs can be detected at SafeAir with indoor air quality testing in Toronto. You can talk to our team to learn more about the presence of harmful contaminants around your property and learn the best way to eliminate them.

2. Clean Carpets and Rugs
Carpets and rugs are a significant source of air quality pollution in a home because they trap particles within them and can be challenging to clean properly. Many northern countries have a tradition of putting wool rugs out into the snow to freeze any living molds or creepy crawlies, but if that isn't your speed, renting a carpet cleaning machine or putting washable rugs through the washing machine will do. The contaminants trapped in carpets can seem harmless but they can actually affect the way you feel at home. The best way to detect contaminants around your home is with a professional air quality assessment.

3. Change Your Air Filters
Want a five-minute job with an oversized effect? Changing your furnace filters every 2-5 months helps reduce dust and pollutants throughout your home. Screening these small particles from your air can help keep the whole house cleaner, and by keeping small particles from entering your furnace, you also extend its life and reduce wear and tear.

4. Install Vents
Installing air vents in the kitchen or bathroom is one of our most common recommendations because heated, moist air from cooking and bathing is often the push that mold growth needs to grow throughout your home. By venting this air outside your home, you help lower humidity and reduce the chance of mold growth.

5. Practice Your Green Thumb
Adding a plant or two can liven up your living space and bring a much-needed boost of colour and coziness. But it also has a hidden benefit — plants help filter and clean the air. Some of the most common houseplants, like the snake plant, has even been studied by NASA for its air-purifying abilities.
Start with an Indoor Air Quality Test
Each home faces different indoor pollutants, and it's nearly impossible to know what affects your home based on smell, sight, taste, or evidence. That's why SafeAir offers an easy professional indoor air quality assessment. Let our qualified and friendly team assess your home from top to bottom and uncover what might be affecting your home. To learn more about how we do indoor air quality tests or book a free visual inspection today, contact us online or by phone and we'll be happy to get you started.