What to Do When Mold is Found on Your Property
Posted in Mold, on February 13, 2023
Discovering an unexpected mold infestation can be frustrating and scary. Mold inspection in Toronto helps prevent these nasty surprises and is a safe and reliable way to test for mold growth indoors. SafeAir has been helping families by leading environmental assessments in Toronto for over a decade, identifying active mold colonies and areas at risk of infestation. Preventing a mold infestation is easier than you think — here are some tips from our air quality testing team.
Identify the Cause of Mold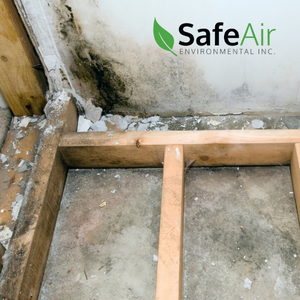 If you've discovered mold growing in your Toronto home, one of the most important things you can do (next to scheduling a professional mold removal!) is uncovering the cause. Mold growth can happen inside our homes for many different reasons: perhaps your indoor humidity is too high, the air circulation is poor, or maybe there's been a slow leak from the bathroom sink. Understanding the cause of a mold infestation is a critical step toward a solution because the underlying cause needs to be addressed for mould removal to work.
Schedule a Mold Inspection
And how do you discover the cause of a mold infestation? A mold inspection with SafeAir, that's how! Not only do we identify the presence of mold growth during our inspection and mold testing services, but we can also pinpoint colonies and help unearth the root cause behind the infestation. This valuable information is vital to successful remediation and may have broader implications for your indoor air quality.
Complete Environmental Assessments
Mold spores are one of the most common issues affecting homes across Toronto and the GTA, but it's also often interwoven with other indoor air quality issues. This is why complete environmental assessments in Toronto are so valuable — they can establish links between seemingly unrelated phenomena xin your home and help you make decisions to protect your family's health.
One example the SafeAir team often experiences is homes with high heating and cooling costs. Expensive monthly bills can be caused by energy loss from insulation degradation due to mold growth and a spiral of rising temperature can result in huge bills and lots of physical damage.
How to Source Mold Removal Services
When dealing with an issue like mold growth, getting a professional mold inspection in Toronto is imperative. Mold is a living organism that spreads quickly and can be tricky to remove. Some types of mold produce hazardous mycotoxins that can cause serious health effects.
When looking for a mold testing company in Toronto, we recommend:
Working with a specialist, not a general handy-man.
Inquiring about safety procedures and methodology.
Professional memberships in industry-specific associations.
At SafeAir, we have over a decade of experience specializing in indoor air quality assessments, professional training and skill upgrades with organizations like in Indoor Air Quality Association, which shares the latest in mold detection and air quality research. Safety is at the core of our work and critical for successful environmental assessment. To learn more about the services SafeAir offers in Toronto and the GTA, please reach out online or by phone.