Should I Get a Radon Reduction System?
Posted in Radon Testing, on September 20, 2022
As public awareness grows, you may have heard about radon testing from friends, neighbours, or your colleagues. This passive, non-invasive service helps to measure the amount of radon gas in your indoor air quality and is an essential tool for preventing the harmful long-term effects of exposure. At SafeAir, our team often gets questions about radon gas testing, radon reduction systems, and whether a passive or active system is best. Here's what we think!
What is Radon Gas?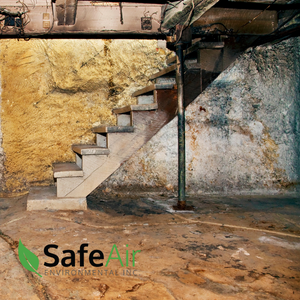 First, let's cover the basics. Radon is a colourless, odourless, invisible gas created as uranium decays deep underground. The resulting radioactive gas floats to the surface and disperses into the atmosphere in an ideal situation. Radon gas becomes a problem when it enters your home through cracks and gaps in your foundation. Without professional radon testing, there is no way to know whether or not your home is affected. Long-term radon exposure carries worrying side effects and is the second-most leading cause of lung cancer.
Where Does Radon Gas Come From?
There are many places where radon gas can enter your home, including:
Through cracks in the foundation or slab
Around windows or doors
Support posts
Floor drains or sump pumps
Gaps around service pipes and construction joints
What is a Radon Reduction System and How Does It Work?
If SafeAir radon testing detects unsafe gas levels in your home, the next step is to prevent it from coming in or reduce it to harmless levels. For many homeowners, sealing cracks and tightening the seal in your basement can prevent radon leaking into your home.
Many neighbourhoods and locations in the GTA are more highly affected by radon gas and may need reduction systems to ensure your safety. These simple and effective systems can lower radon levels in indoor air quality by up to 99% in many cases. They work by capturing and channeling the gas out of your home through ventilation or activated charcoal treatment devices.
How To Select the Best Radon Reduction System?
There are many different options for radon reduction systems on the market, but what is the best one for your home? Following a positive radon test, the SafeAir team will help lay out your options based on:
Your home's radon level
The size of your home
The foundation of your property
Soil and geographic conditions
These various characteristics will determine which systems will be most effective. For most of our customers, straightforward strategies, such as passive suction systems, are the most effective. However, if your radon levels are very high, an active suction system may be necessary.
Before you jump to the worst-case scenario, however, let SafeAir help you determine if your home is affected by radon gas. Our testing protocol is non-invasive and passive — we install a small device in an out-of-the-way location in your basement or lower level and return in 3-6 months to send it to the lab. Trust SafeAir to keep your home safe and healthy!
To learn more about radon gas testing, contact the SafeAir team today.