How to Spot Radon Poisoning
Posted in Radon Testing, on June 21, 2023
In a television mystery, a poisoning victim shows clear signs they've been affected: vomiting, strange behaviour, unexplained illness. But what if a poison didn't cause symptoms until it was too late?
SafeAir's radon detection services can help you uncover this scentless, invisible, and mainly symptomless issue with your indoor air quality. Radon gas is common across the GTA and is often unknown — even though it's one of Canada's leading causes of lung cancer. Air quality testing is the only way to know if you're affected by this silent killer.
What is Radon?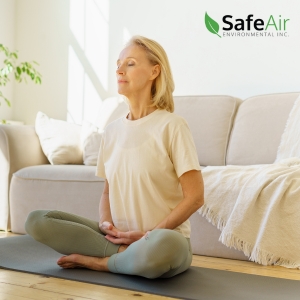 Radon gas is a naturally occurring gas you cannot feel, see, smell or taste. It is formed underground by uranium deposits in the earth's crust and becomes trapped in homes and basements. Exposure to large amounts of this radioactive gas can lead to severe and life-threatening health problems, especially over the long term.
Symptoms of Radon Poisoning
Getting sick from radon gas exposure usually takes a long time and happens when someone's home indoor air quality is affected — after all, we spend at least 8-10 hours at home every day!
For many years, radon gas will have few, if any, symptoms. Health problems from exposure to radon gas show up after many years and include:
Coughing.
Shortness of breath.
Wheezing.
Chest pain.
Weight loss.
The most common outcome of radon gas exposure is lung cancer, and since there are no routine tests that can alert you to changes in your body, the only way to know if you're affected is through professional radon testing.
Benefits of Radon Testing
At SafeAir, we can perform radon detection independantly, during indoor air quality testing or alongside another service like mold testing. Radon testing is straightforward — we install a small device in the lower level of your home, and it passively takes air samples over a 3-6 month period.
Understanding your radon gas risk at home can help you make healthy choices to reduce or eliminate your exposure and ensure your long-term health and safety. Keeping radon out of your home is often as easy as sealing gaps in your foundation, installing a cover for your sump pump, or increasing your ventilation. Many homes in the GTA aren't affected, but one of the most challenging parts of radon gas is that it's impossible to tell without a test — yours may be the only house on the block without a problem. But with such high stakes, knowledge is power, and making your home a safe and healthy place to grow is essential.
How to Preserve Your Indoor Air Quality
When it comes to indoor air quality, many homeowners don't know that indoor pollution can rival or exceed outdoor pollution — and safety at home is our first priority! Fresh, clean air is essential to long-term health, good sleep, and everyday comfort at home. SafeAir is committed to helping families, businesses, and organizations with radon detection, mold testing, and other environmental assessments — to learn more about how we can help you, contact our team for more information about radon gas and more.