How to Know If Wildfires are Impacting Your Indoor Air Quality
Posted in Air Quality, on July 27, 2023
For many of us in the GTA, the smoke and poor air quality from this summer's wildfires have been an entirely new and concerning experience. While we usually get calls about radon detection and mold testing, the SafeAir team has experienced an uptick in calls about how indoor air quality is affected by wildfires — and if air quality testing can help. Here's what we've learned, as well as a few tips to help protect your home.
Indoor Contaminants Made Worse by Wildfires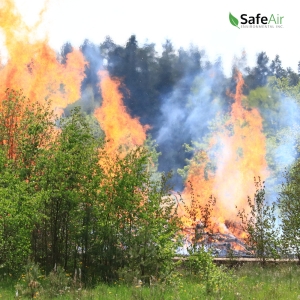 Adding smoke on top of the 'regular' contaminants that affect our indoor air quality has made for a great deal of discomfort for many Canadians. While there's little research on whether wildfire smoke boosts the effects of indoor air quality issues like radon or mold, there's no denying that increased indoor pollution has a negative effect on human health.
Wildfire smoke is full of particulate matter, which are ultrafine particles of dust, dirt, ash, and liquids that bond together. The smoke from wildfires is an excellent example of visible particulate matter. Still, most of it isn't big enough to see — and it's what you should worry about because these invisible small particles can penetrate deep into your respiratory system. Particulate matter is also created by combustion, such as from gas engines, factories, and construction sites.
Tips for Protecting Your Air Quality
Keep windows and doors closed: If the smoke is heavy, keep your windows and doors closed. Open them when the air quality returns to safe levels by checking www.airqualityontario.com.
Run a HEPA air purifier: Air filters help to pull pollution from your indoor air quality. SafeAir recommends using HEPA filters or checking yours to ensure that it can capture PM 2.5.
Prevent pollution: Use your HVAC system to help protect your air quality by setting it to recirculate mode or closing outdoor dampers on window-mounted air conditioners.
Wear an N95 mask: If you're particularly affected by outdoor pollutants, wear an N95 mask and limit your time outdoors to reduce exposure.
Why Test Indoor Air Quality During Wildfire Season
If you're wondering if wildfire smoke throws off air quality testing results, you're right — a test performed now won't give you an accurate baseline for your home. But it will help you uncover other valuable things, such as:
Where and how outdoor pollution enters your home, because smoke is easy to isolate.
How air circulates and collects in your home.
Where there are risk factors and weak points.
What pollutants your home faces daily.
Protect yourself and your family with SafeAir this summer. Every year wildfire season across North America seems to be burning hotter and longer, which means that city dwellers will be experiencing more poor air quality days in the years to come. Get ahead of your neighbours by doing air quality testing at home to determine what, where, when, and how outdoor air pollution enters your home. To book radon testing, mold testing, or an overall environmental assessment, contact the SafeAir team to learn more.