Book Your Quick Air Quality Home Inspection Today
Posted in Air Quality, on March 03, 2022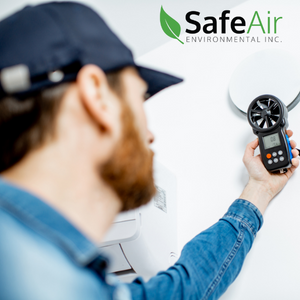 Have you moved recently? Are you sleeping poorly or worried about the amount of dust accumulated in your home? If so, SafeAir can help with a quick indoor air quality test! Many common but difficult-to-diagnose issues like allergies, poor sleep, and skin problems often originate from poor indoor air quality. Services like mold inspection in Toronto can identify spores and pinpoint areas with high humidity or reduced airflow that might lead to future infestations. Whether you're a new homeowner or have lived in your home for a decade, now is a great time to set a baseline and solve any issues before they take root.
What Do Home Inspectors Do?
At SafeAir, we often work closely with home inspectors to uncover underlying problems with new and lived-in homes. Purchasing a new home for your family is a considerable investment, and it's difficult to remember to check all areas and keep your eyes peeled for issues when trying to assess room sizes and figuring out whether or not a property meets your needs.
This is where the SafeAir team can help. Simply book us alongside your pre-purchase home inspection, and we'll take a detailed, science-based look at the home's indoor air quality. We can help discover issues that may make or break a sale — or help you shave thousands from your offer. More importantly, we give you peace of mind that you're moving your family somewhere safe and healthy to live.
Benefits of Indoor Air Quality Inspection in Toronto
Improved indoor air quality.
One of the best benefits of having a home indoor air quality inspection is that you'll discover small ways to improve your indoor environment for increased comfort and health. A common problem SafeAir finds is high indoor humidity — which can lead to mold growth and affect people with asthma and other chronic lung conditions.
Finding hidden mold growth.
Mold is one of the most common issues affecting air quality in GTA homes. The biggest problem with mold growth is that it usually grows out of sight and in hard-to-reach places. Mold inspection in Toronto will detect spores even if no mold growth is visible. This can help you get on top of small infestations before they have a chance to grow.
Identifying pollutants.
While pollution is something we generally think of as an outdoor problem, it can also affect our indoor environment. Indoor pollution sources can be varied: household cleaners, construction materials, paints, glues, and even cooking can all add particles and pollutants to your indoor air quality.
Improvements to health and wellness.
The point of identifying and eliminating indoor air quality problems is to see an improvement in your health and wellness. Many of the most common indoor pollutants cause short and long-term issues that can be difficult to identify even as they cause severe discomfort and disruption to your life.
Easy Improvements to Your Indoor Air Quality in Toronto
At SafeAir, we're often asked what quick and easy changes people can implement today to improve their indoor air quality in Toronto. Small changes to air quality can have significant effects! Here are a handful of our favourite solutions:
Change your furnace filters regularly — every 3-6 months.
Open the window or turn on the fan when bathing to minimize excessive humidity build-up (it can cause mold growth!).
Use a dehumidifier in the basement.
Have a washable carpet at the front door to capture allergens on their way in (and don't wear shoes indoors!).
When possible, regularly open windows and doors to get fresh air circulating in your home.
Work with SafeAir to Improve Your Indoor Air Quality Toronto
An indoor air quality inspection in Toronto is a quick and easy way to understand what's happening in your home environment. If you have allergies, asthma, or are immune-compromised, your home environment may negatively impact your health, making it especially important to test your indoor air quality. SafeAir has over a decade of trusted experience helping GTA area families improve their home environment through mold inspection in Toronto, radon testing, and more. Contact our team to learn how you can book indoor air quality testing today.